Many employers struggle to find qualified candidates to fill job openings. Employers are quick to point out that there is a talent pool that is lacking in job skills, business knowledge, experience, and formal qualifications. However, many of these same employers frequently avoid using staffing services because they believe the cost will be prohibitive.
In this article, you will learn everything about why you should use staffing services for getting full-time positions. Let us observe:
An overview
What exactly is a staffing agency?
Types of staffing agencies
Preparing for an interview with a staffing agency
Benefits of using a staffing agency
Working with staffing agencies: some points to consider
How can Connect Staff help you?
1. An overview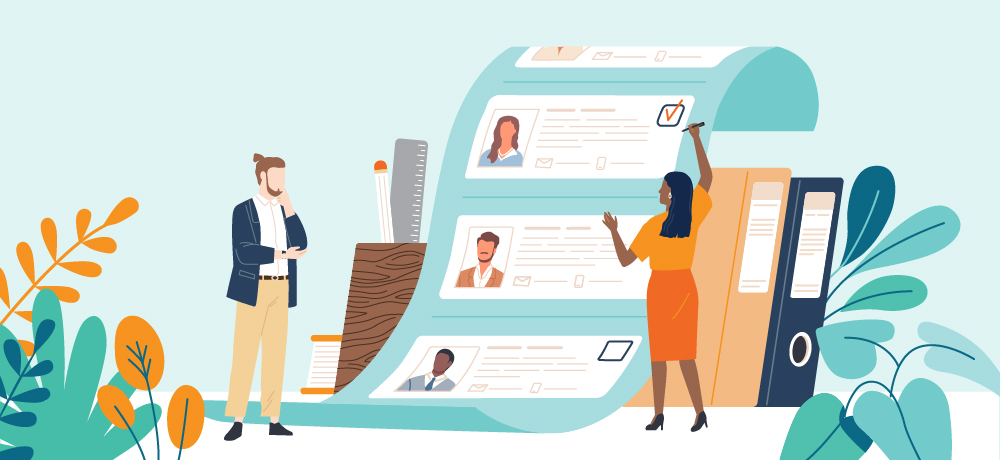 Recruiters match candidates at various levels with open positions. Companies pay recruiters to find qualified candidates for specific positions. Recruiters do not charge any fees to candidates for their services. Keep this in mind because, while employment agencies may call themselves recruiters, they will charge you for their staffing services.
To fill a new position, first create a job description if you do not already have one; and then post the job listing. Prepare to be inundated with applications. You will need to gather, organize, and review cover letters and resumes; prescreen applicants based on the materials, then prescreen many through phone interviews, and finally conduct formal interviews.
After you have narrowed down your options, you will check references and verify previous employment; as well as to conduct background screening and drug testing, before negotiating compensation. Finally, you have the option of making a job offer that may or may not be accepted.
Depending on the position's requirements, the hiring process can last anywhere from a few weeks to a few months.
2. What exactly is a staffing agency?
A staffing agency is a company that finds qualified workers for other businesses. Companies that are agency clients can hire associates on a temporary, part-time, or full-time basis, depending on the job vacancies that they need to fill. Here is how a staffing agency operates:
Human resources managers determine the organization's requirements. The managers communicate to the staffing agency the type of position that is open and the length of time they require a new employee to fill it.
Staffing agencies look for qualified candidates in the following areas. Recruiters create and advertise job descriptions based on the skills the client prefers. Plus, they review the resumes of candidates who apply for the job. The candidates are then interviewed.
The organization chooses the candidates. Following the recruitment process, the staffing agency presents a group of candidates who are a good fit for the role, and the organization decides who gets the job.
3. Types of staffing agencies
3.1. Contingent agencies
Companies hire contingent recruiters to carry out a specific search. It is only if the candidate is hired that the recruitment agency gets paid. They usually deal with job openings that pay less than $100,000 per year. They frequently concentrate on temporary employment, junior, and mid-level positions.
When presenting candidates for job openings, they compete with other firms. As a result, they will almost certainly submit as many candidates as possible for a given role. This could be advantageous because it broadens your exposure to a variety of positions. However, this exposure may lead to you being presented with jobs that are not a good fit for your skills.
To avoid this, maintain an open line of communication with the recruiter regarding the positions for which you are applying.
3.2. Temporary staffing agencies
They are types of contingent-based firms that hire temporary workers and "leases" them to businesses. The agency handles all initial recruiting, screening, and interviewing. Also, the agency makes the contract negotiation for the temporary employee. Most staffing agencies provide both health and disability insurance.
Some companies provide paid time off, medical and dental coverage, life insurance, and a 401K plan. Recruiting firms may offer training sessions for organizational and other workplace skills. The customer is the company or business for which the employee works. The client pays the recruiting agency a flat fee or a percentage of the starting salary.
3.3. Retainer-based headhunters, recruiters, and executive search firms.
Retainer-based firms are hired by businesses to be the sole provider of recruiting services. They typically conduct a large number of searches for their company's clients. They are compensated regardless of whether or not their candidate gets the job. These businesses typically deal with high-level staffing.
At a retainer-based firm, you are likely to work with only one staff member. This means you will be "off-limits" to other members of the firm, which may limit the opportunities presented to you. As a result, you should send your materials to several retainer-based firms to broaden your exposure.
4. Preparing for an interview with a staffing agency
The interview with the recruiting agency allows you to determine whether your needs match those of the agency and the client. Here are some possible questions:
Who are some of your customers?
What are your areas of expertise?
What types of assignments do you prefer?
When is the best time to call to see if there is any work available?
Who is in charge of getting my assignments and jobs? Do I have a specific point of contact?
Do you provide training for temporary employees? What types of training sessions or workshops do you provide, if any?
Is the hiring organization you or the company where they have been placed you?
If the agency is in charge of the hiring:

Do you provide medical or vacation leave?
What is your policy on working overtime?
What is your policy if the company wants to hire me as a full-time employee?
5. Benefits of using a staffing agency
5.1. Candidates are tested before being hired
Temporary employees allow your company to test a candidate before making a full-time offer. Before hiring a temporary worker, assess the fit; if they are exactly what you are looking for, you can decide to hire once they have checked all of your boxes. This is one of the most significant advantages of using a staffing agency.
Temp-to-hire staffing is the ideal risk-free solution, which is why 47 percent of staffing clients ranked the ability to assess fit before hiring as a top benefit of working with an agency.
5.2. The ability to quickly fill positions
Because staffing agency recruiters maintain a pool of readily available talent for a wide range of jobs and industries; a job opening can be filled in a matter of hours or days. Staffing services result in a quicker hiring process. Background checks, drug tests, skills testing, interview scheduling, and carefully qualifying each candidate's work experience are all handled by agencies.
These staffing services alone can help staffing clients find top talent up to 80% faster. One of the top reasons cited by staffing agency clients as a top perk of temp services is the ability to fill positions faster with an agency than on your own.
5.3. Lower hiring and labor costs
The core business of staffing agencies is to recruit, screen, and select the best candidate for a position. A staffing agency conducts a needs analysis with a company representative to learn firsthand about the organizational structure, culture, and environment of their clients. After that, they will search their database and the job market for suitable candidates.
Hence, good agencies can find candidates quickly. Staffing agencies can save companies significant time and money when separating qualified from unqualified candidates; this can be possible by leveraging recruiters' networks, which are constantly expanding.
An employer only needs to specify what they are looking for, and the staffing agency will handle the rest. The staffing agency employs temporary staffing employees in addition to recruiting for full-time positions. Temporary employees may reduce client overhead costs such as overtime for regular, full-time employees.
Also, you can use them as needed without committing to a 40-hour workweek regardless of client workload. As a result, the client's overall costs are reduced, and they are better able to manage their workload during seasonality or special projects.
5.4. Improve flexibility while saving time
Using a staffing agency avoids the commitment of a full-time employee, saving both time and money. A good agency can also reduce bad hires, saving time and money. Seasoned recruiters understand that a positive interview does not always translate into positive job performance.
As a result, they can balance an employer's immediate and long-term needs. They will frequently suggest hiring candidates on a contract or contract-to-hire basis. An employer can use this arrangement to ensure that a candidate has the necessary skills and experience before hiring them as a full-time employee.
In addition, we offer you the best contract staffing services. Check them out by visiting our services section.
5.5. Productivity should increase
Temporary employees can help with work overload and prevent full-time employees from becoming burned out. Employees can quickly become overburdened if their work schedules are overburdened. Then mistakes happen, and productivity suffers. Increased absenteeism is also possible.
Full-time employees can continue to focus on their primary job duties while retaining productivity by using temporary staff.
5.6. Delegating payroll and administrative duties
Other time-consuming tasks that the staffing agency handles include:
Pre-screening (criminal background checks, drug screens, skills testing, interviews, references, and education).
Reference verification.
Education checks.
Payroll processing.
Unemployment.
Workers' compensation.
6. Working with staffing agencies: Some points to consider
Consider using the following guidelines when working with a staffing agency:
6.1. Do your homework
It is critical to work with a staffing agency that specializes in your industry. This is to ensure you have access to candidates with the most relevant skills. Examine the websites of staffing firms to learn about the recruitment services they offer and the employees they place with businesses.
Gather information on their rates so you can compare them to the costs of hiring candidates in-house. You can also inquire about how long it takes the agency to refer employees. This may have an impact on the productivity of your permanent employees.
For example, if your job vacancy requires immediate filling and the agency responds quickly, you can have an employee begin the role right away.
6.2. Be specific about the needs of the organization
Specifying the job qualities you seek will allow the staffing agency to refer an ideal employee to your company. For example, if you have a job opening for a social media manager, specify that you need someone with analytics experience and content creation skills; rather than someone who simply knows how to use the platform.
Specifying your requirements can also assist staffing agencies in creating more accurate job descriptions and looking for specific qualities when interviewing candidates.
6.3. Provide feedback
Informing staffing recruiters about the success of the candidates they refer can help strengthen their recruitment process. This may benefit your organization in the future. They can continue with their approach if they know they recommended an employee whose skills were a good fit for your company.
If they are aware that the employee's skills were incompatible, they can alter how candidates are assigned to achieve better results.
7. How can Connect Staff help you?
Staffing agencies can find employees on their own. Recruiters are well-versed in the entire job market. They frequently know talented prospects who are currently employed but would be interested in other opportunities if they arose.
Connect Staff is an experienced company that can get you the most qualified employees. With us, you can be sure you are going to save time and money.
Would you like to contact us to obtain more information about why you should use staffing services full-time positions? If you have any questions, you can email us at contact@connectstaff.ae or make a phone call at +97143316688. Then, you are going to talk to one of our representatives who will answer your questions.
Plus, you should visit thetalentpoint.com and submit your CV or resume if you desire to be part of our staff. We will not store CVs and resumes you send to contact@thetalentpoint.com. Without a doubt, you will be with the best team in the country.