The growth of IT business around the world has been staggering in the last decade. Both traditional and new IT companies are using new technological advances as leverage to higher profits. However, they have also enjoyed the advantages of using an IT staffing firm to fill their vacant positions.
In this article, we will show you the advantages of using IT staffing firms to hire or find jobs. Here, you will learn what IT Staffing Firms do and the advantages of using them for hiring or finding jobs. We will enable you this by talking about the following topics:
What does an IT staffing firm do?
What are the advantages of using an IT staffing firm for hiring?
How an IT staffing firm can help me find a job?
Where can I find more information about IT staffing firms?
1. What does an IT staffing firm do?
The IT business is one in which skilled and talented employees are the most needed. Most importantly, IT companies require workers that are organized, perform well under pressure, and that have high knowledge of the field. Now, such a kind of employee is not easy to find. Their current high demand and required high technical IT experience make the number of available candidates to be lower. Therefore, you will need someone who understands recruiting in this business to overcome this problem.
This is where IT staffing firms come to the rescue. Their primary goal is to search, find, interview, and prepare potential candidates for IT companies' available positions. To do so, they use all source of tools that allows them to select the right candidate for their online and part time jobs.
Furthermore, the best IT staffing firms also build a candidates' database. It allows them to have the best suitable candidates already screened and on the speed dial for IT jobs openings. Some IT staffing firms have small candidate pools to limit their search times. But, recent analyses have shown that the best idea you can have in the staffing business is to expand it.
2. What are the advantages of using an IT staffing firm for hiring?
Almost all of the best IT companies in the world use IT staffing firms for their hiring processes of data entry operators and more. This is not accidental, and a lot of it is because their use brings many advantages with it. Certainly, such advantages can be resumed into one: it allows them to save money and add value to their products. In other words, having the right skilled employees in their workforce gives them competitive leverage among competitors.
Now, the advantages you can enjoy by using an IT staffing firm can vary depending on different variables. For instance, there are specific advantages of using IT staffing firms based on their location. However, we managed to find five advantages that are common in all levels of the IT staffing business. They can be enjoyed by IT companies all over the world that use any kind of IT staffing services.
On the other hand, IT staffing firms do not only work with IT companies. They can work in any business with an IT department in their ranks. Most importantly, it gives them the opportunity to offshore their IT functions.
Let us now show you in detail the five advantages of using IT staffing firms for hiring:
2.1. Expertise in the field
The best staffing agencies have a tactic they always apply: they have deep knowledge of the industry they hire for. By doing so, they can have higher precision in their candidates' search. Moreover, they can also prepare them better for onboarding processes and the workload they are going to handle.
IT staffing firms are not exempt from this. Their expertise in the field involves knowing the latest trends in the tech industry and the requirements of any position. In this case, they can select the right candidate by knowing the type of hardware and software he/she will be using. For example, when looking for accountants and finance staff, they make sure that they know the tools they will be using daily.
Furthermore, IT staffing firms are also familiar with labor laws and regulations of several countries. It is a necessary asset because of the everyday increasing demand for remote employees from any region of the globe. In conclusion, the level of expertise matters heavily in the IT staffing business. Hence, you should make sure you are selecting an IT staffing firm with deep knowledge in the field.
2.2. Lower risks
One of the reasons IT companies tend to use IT staffing firms is to avoid choosing the wrong candidates. After all, IT companies invest a lot of money and resources in onboarding and training new employees. Indeed, IT companies trying to recruit their own candidates are more likely to pick the wrong ones for their positions. Hence, when they use the services of an IT staffing firm, they are lowering the risks of costly affairs.
On the other hand, you may think that the services of the best IT staffing firm can be expensive. However, when you compare their fees with the financial loss of making a bad hire, their use is more than justified. Therefore, you should allow your IT staffing firm to present you with the best candidates for your contract staffing necessities. It will help you reduce such risks substantially.
Now, the right candidate for the job is not the only thing you should choose correctly. Another topic in which companies are taking the time to choose the right one is staffing solutions. Here, knowing how to choose the right one for your company may come in handy.
2.3. The time-saving advantage
Let us analyze the next scenario: there is an available position in your IT company. You decided to perform the recruitment process yourself because you feel confident you can do it correctly. Then, you sit in your office and realize that you need to create a job description first. You also need to post the job offer on different portal sites and then assess all the received applications.
After that, you need to select the candidates you like, interview them, and just then, hire one for the job. Without a doubt, it seems like such tasks would take you a lot of time. The use of IT staffing firms will allow you to save the time you would invest in these processes. This way, you will have the time to focus on more important topics of your business.
In essence, their handling of recruitment tools and a huge network of qualified people allow them to search for candidates quickly. Like most staffing agencies, IT staffing firms use technological advances to increase their processes' speed and efficiency. The most important of such advances is the possibility of managing their company remotely with employees all over the world. However, staffing agencies must first know how to perform such remote management.
2.4. Temporary employment
In the IT business, short-term projects have become standard practice. From a staffing perspective, short-term projects often require specific skills for short periods. But, in most cases, your company's team might not have such skills available.
IT staffing firms deal with this issue using temporary employment. In other words, they search for candidates with the required specific skills and hire them as temporary employees. This way, candidates can be employed only to perform a particular task of the project until its completion.
Above all, IT companies prefer this practice because it eliminates the need for onboarding and training new employees. With temporary employment, your IT staffing firm will provide you with people who already have the required skills for the task.
Now, temporary employment may seem like an easy method to apply, but the truth is that sometimes it is not. This is because some temporary IT roles in the industry can be challenging to fill. Therefore, you must know which are the most challenging ones and why.
2.5. Simpler background checking process
The best IT staffing firms in the business have the premise of taking full responsibility for hiring a workforce. However, with steps that cannot be skipped, such as verifying educational achievements and background checking, it can be a complex process.
IT staffing firms deal with this problem by using their networks and tools to simplify such processes. For instance, they can promote a candidate from their database with already checked academic achievements and verified no criminal history. Thus, you will find hiring processes to be a lot simpler by working with an IT staffing firm. They will perform all the background checking processes for you in a fast and non-complex manner.
Now, such evaluation processes may end for temporary IT employees after they are hired for short-term projects. But, some companies are now weighing the possibility of evaluating them also during their work. Most importantly, they realized that they can get useful information by evaluating their temporary employees' performance.
3. How an IT staffing firm can help me find a job?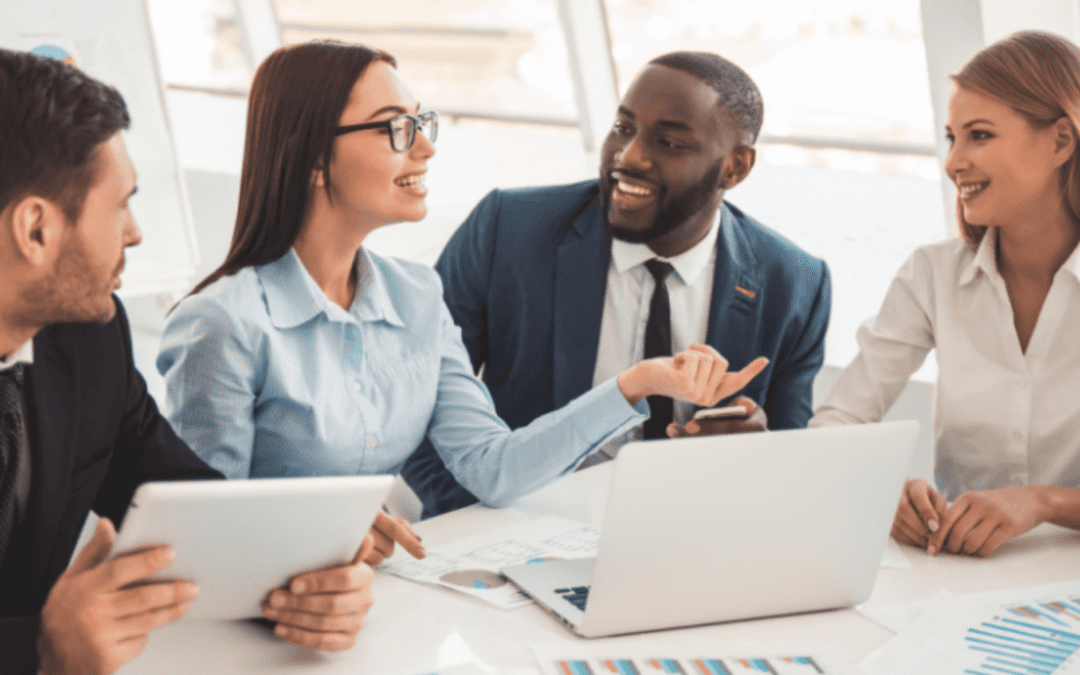 We just showed you the advantages of using an IT staffing firm for your company. Indeed, it can bring you the possibility of always choosing the right candidates while saving time and money. But, how an IT staffing firm can help me if I am a job seeker?
Well, they can help you a big deal. Most IT staffing firms not only store information about potential candidates for IT roles. They also keep track of available positions that appear among their clients. Hence, by being in their network, you will have a high probability of getting the job.
Therefore, you must be noticeable for them to be among the first considered as potential candidates. To do so, you should be aware of job openings in your line of work on job boards. You should also keep your resume always updated on career sites.
In essence, you need to use the characteristics of the staffing software your IT staffing firm uses to your advantage. After all, the staffing and recruitment software market is a big one that is growing at a fast rate today.
3.1. Passive candidates
IT staffing firms can also work with passive candidates. To clarify, a passive candidate is an IT employee who is not searching for new job opportunities at the moment. However, it does not mean that he/she will not analyze new opportunities.
Hence, most IT staffing firms remain in contact with their candidates' network, even when they are employed. It allows them to present such candidates with attractive IT job offers they are suitable for. Passive candidates search is one of the methods staffing companies will still use in the future for recruitment. However, there are a lot of other things you should know about the future of staffing companies.
4. Where can I find more information about IT staffing firms?
With the current competitiveness in the IT world, all IT companies are seeking improvements to lead the business. One major improvement they are all applying is building a skilled workforce. In this matter, using an IT staffing firm can come with many advantages.
Several IT companies now consider choosing the right IT staffing agency a paramount task because of this. On Connect Staff, we believe in doing meaningful work for you, by providing you with the IT staffing services you need.
Do you have some questions about IT staffing services? Go and contact us to obtain more information about how we can help your IT business, by calling us at +971 43 316 688. You can also email us at contact@connectstaff.ae, to talk with one of our representatives who will answer all your questions.
On The Talent Point, there are several IT employment offers for you to help you find your dream job. Apply to one today going to thetalentpoint.com. Also, send your resume to contact@thetalentpoint.com as an alternative way to apply.