Learning should be a part of the day-to-day lives of your employees. By utilizing interactive learning to develop your teams, you can harness and foster their skills. This way, they can positively address the needs of your organization. That is why for a manpower temporary agency it would be of great help.
In this article, you will learn everything about why you should integrate HR systems in your manpower temporary agency. We will discuss how integrating solutions into your HR software can create richer learning experiences tailored to your teams. Let us observe:
HRIS: A brief definition
LMS: Basic concepts
HRMS: Simply explained
What are the advantages of these systems?
Do you need HR software to have a successful work environment?
How can a manpower temporary agency help you in your recruiting process?
1. HRIS: A brief definition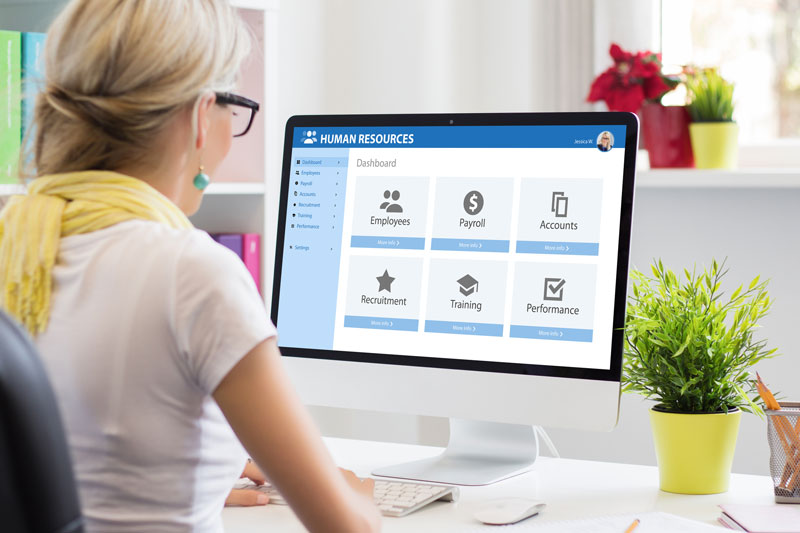 HRIS (Human Resources Information System) job is collecting and storing data on the employees of a company. In most cases, an HRIS has the fundamental functions required for end-to-end HRM (Human Resources Management).
Hence, it is a system for recruitment, performance management, learning and development, and other functions. HRIS software is another name for it. This is a little perplexing because it implies that different systems can run different software. This, however, is not the case. Basically, the HRIS is a piece of HR software.
The HRIS can run on the company's technical infrastructure or, as is more common nowadays, on the cloud. This means that the HR software is running outside of the company's walls, making updates much easier.
Connect Staff is a manpower temporary agency that can provide you with outstanding temporary staff. Hence, we can show you the things you should consider before hiring a temporary employee as a full-time one.
2. LMS: Basic concepts
A learning management system (LMS) is a software application that provides the framework for all aspects of the learning process. It is where you store, deliver, and track your training content. While an LMS is the most commonly used term, other terms are:
Training management system.
Learning activity management system.
A learning experience platform (LXP).
On the other hand, a learning content management system (LCMS) is frequently confused with an LMS. An LCMS is a piece of software that they use to create and manage learning content. The two systems complement one another but are not the same.
An LMS intends to make the lives of those in charge of training and development easier. For example, it can make it by:
Identifying and assessing individual and organizational learning goals.
Tracking progress toward those goals.
Gathering and presenting data for supervising the learning process.
Hence, an LMS can handle onboarding, compliance, and skills gap analysis in addition to delivering content.
On the other hand, we offer great IT support staff services that can help you with your HR software integration. Continue reading to know more!
3. HRMS: Simply explained
Human resource management is more complex and involved today than it has ever been. There is a lot that goes into managing employee information. They use it for everything from recruiting and hiring to training and evaluations, among other things. Hence, human resource professionals must have HR management software for more efficient management of HR information.
As a result, many businesses now use an HRMS (Human Resource Management System). This is a collection of systems and processes that connect human resource management and information technology via HR software. You can use an HRMS for:
Candidate recruitment.
Payroll management.
Leave approval.
Succession planning.
Attendance tracking.
Career progression.
Performance reviews.
And overall employee information maintenance within an organization.
The automation of repetitive and time-consuming human resource management tasks frees up some of the company's most valuable employees. This allows them the focus to shift to culture, retention, and other highly impactful areas.
4. What are the advantages of these systems?
4.1. Your talent can be enhanced by combining your skills
Every company should have a Human Resources Information System (HRIS). One of its main advantages is the ability to successfully monitor your employees' skills from the moment you hire them. Hence, when you integrate your HR software with an LMS, you can improve this functionality.
You can do this by adding a slew of features that can contribute to their professional development.
When your HR software works in tandem with an LMS, your employees will have access to rich and relevant content that they can master and incorporate into their daily workflows. You can even personalize this content for each employee, making them more engaged in the process of improving their skills.
In the same vein, our agency can teach you the right way to manage your staff remotely.
4.1.1. Is this the future of education?
Personalized learning is both the present and the future of education because it fosters agency, nurtures lifelong learners, and improves student engagement and achievement. Finally, it is what every student or trainee is entitled to.
Meanwhile, you can integrate your organization's HR process with LMS features. An LMS can supplement the features of your existing human resource management system (HRMS).
For example, you can create a learning campaign for each stage of your employee's career. Thus, the employee will never stop learning and growing with your company. It does not matter if they are just starting, or if they have been working for a long time.
Other features include compliance checks, daily workflow integration, and real-time and pragmatic insights into your workforce's learning progress.
On the other hand, we can provide guidance on how you can motivate your remote employees and temporary workers to enhance their performance, increase productivity and promote employee satisfaction.
4.2. There is direct access to learning campaigns and materials
There are numerous advantages to using an HRMS that we can discuss in this article. However, when combined with an LMS, employees can obtain learning directly from the HR system. This will give them agency and empowerment over their additional skills and knowledge.
For example, a member of your team may be interested in moving up in the company by obtaining a higher-level position. In this case, you can take a quick look at the skills required for this position. And you can also look for modules and resources that can help them achieve it.
If your workforce is dispersed around the world, this can be a good way to engage a distributed workforce with smart technology. These modules and materials are available to instructors, as well as external employees and potential applicants, in addition to employees in your organization.
4.3. It is simpler to facilitate career advancement
There are various types of LMS integration. However, as we previously stated, the most beneficial to your workforce are those that you can link to the functionalities of your HR software.
Employee skill development is critical for any business. Nevertheless, most organizations overlook this aspect because administrations are more focused on day-to-day operations. Thus, they are less inclined to invest time and resources in long-term activities. These initiatives, according to them, have lower returns for the business.
Hence, they are pushed to the bottom of their priority list.
4.3.1. What to expect for the future?
When you integrate an LMS with the features of an HRMS, employee development is automatically elevated to the top of the enterprise's priority list. As a result, there will be greater accomplishments while doing less.
Organizations can now incorporate courses, modules, and resources for each stage of their employee's careers. They can provide intensive training during onboarding, supplemental knowledge as they are managed regularly. Additionally, they can provide extra modules when they are about to be promoted or transferred to a new department.
4.4. Reward and recognize your employees for expanding their knowledge
Cultivating a proactive and goal-oriented organizational culture is something that every business must strive for. While many businesses attempt to create such workplaces, developing this company culture is no easy task. This is especially with the hustle and bustle of day-to-day operations.
Incentivizing various aspects of being a part of your workforce is a good way to start developing these positive enterprise mechanics. According to a survey, 82% of employees are more satisfied when bosses recognize their efforts at work.
Hence, 63% of recognized employees are highly unlikely to look for a new job in the next 3 to 6 months. You can recognize your employees when they complete a course or perform well in a module. In addition, you can reward them for completing a task ahead of time, completing a project, and going above and beyond their assignments.
You can also congratulate them on their educational progress and present them with educational awards. This system is one of the most important benefits of HR software for businesses.
4.5. Resolve problems as they arise with ease and convenience
Another advantage is the ability to quickly resolve any issues that may arise during your employees' training. You can rely on this type of LMS integration to get issues resolved. For example:
When your employees have questions about the most recent module.
When they need to clarify some concepts from a previous lesson.
Or when they want to track how well they are doing during training.
When your HR software integrates with your LMS, you can create help desk categories and subcategories to make it easier to raise tickets. It streamlines the entire process and aids in query assignments that are heavily reliant on roles.
Another way HRMS features can benefit your LMS is by creating forms that you can assign to specific tasks in your learning process. You can use HR software to create a default form for learning assignments. This way, you can easily use it to ensure that the tasks in your training are assigned appropriately.
5. Do you need HR software to have a successful work environment?
For this to be successful, you will need an integration of online learning platforms and HR software. Here are just a few examples of how the features of a human resource management system can benefit your LMS:
You can achieve gamification of learning by integrating online learning platforms with HR software, making training more exciting and engaging.
You can bring out the competitive side of your team. This can be by ranking employees based on the points they have earned or the badges they have earned. Thus, a leaderboard allows coworkers to see how well their colleagues are performing.
You can even recognize your team members outside of the office by congratulating them on their learning progress on social media. This is especially useful given that the most recent data shows 3.8 billion people are active on social networks. Members of your workforce are not exempt from using social media. Hence, it is a good idea to reach out to them through these channels.
However, it is important to remember that your team members are looking for more than just a steady income and solid benefits. They also want bosses to treat them fairly to make a significant contribution to the venture they are working on.
They want you to value their effort. Therefore, if they improve their skills and obtain additional education that will benefit your business, reward and recognize them for it.
6. How can a manpower temporary agency help you in your recruiting process?
Now you know how useful can HR software integration be in a manpower temporary agency (and any kind of agency).  You can improve the performance of your employees, even temporary ones.  If you are wondering how to start doing this, you will not have to worry anymore.
We can help you in how to have a successful HR software integration in your company. As a result, you will get motivated employees with great performance in your company.
Would you like to contact us to obtain more information about why you should integrate HR systems in your company? If you have any questions, you can email us at contact@connectstaff.ae. Then, you will talk to one of our representatives who will answer your questions.
Submit your CV or resume ride away to thetalentpoint.com. Additionally, we will not store CVs and resumes you send to contact@thetalentpoint.com. Start improving now!